Tel +49(0)2821 997320  /  Fax +49(0)2821 9973229
e-mail: info@fluxana.com  /  internet: www.fluxana.com
FLUXANA® GmbH & Co.KG  /  Borschelstr.3  /  47551 Bedburg-Hau Germany  /  GM Dr. R. Schramm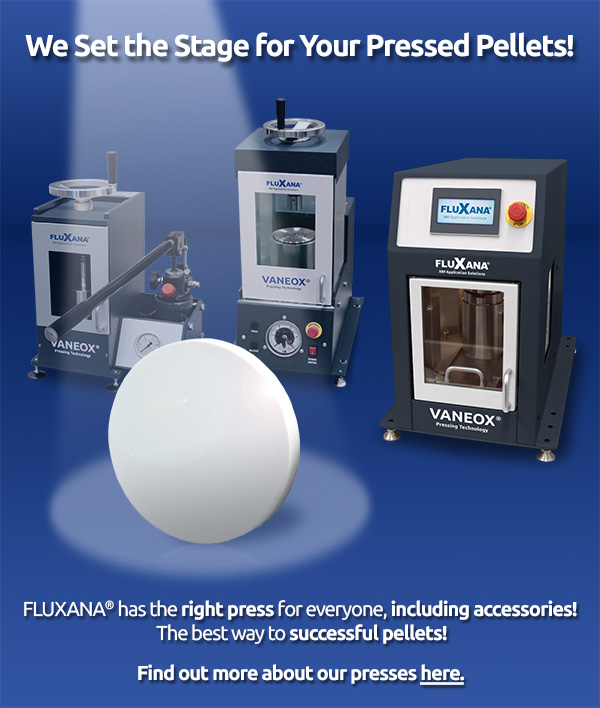 Tel +49(0)2821 997320  /  Fax +49(0)2821 9973229
e-mail: info@fluxana.com  /  internet: www.fluxana.com
FLUXANA® GmbH & Co.KG  /  Borschelstr.3  /  47551 Bedburg-Hau Germany  /  GM Dr. R. Schramm 



 BORAMAT® - Live Demo Wowed Visitors at Analytica
The live demonstration of FLUXANA®s new flux dosing system with its fast and precise dosing was of met with great enthusiasm at Analytica.
Our visitors found the possibility of operating the BORAMAT® with many common laboratory scales especially interesting.
In our new whitepaper concerning the BORAMAT® we demonstrate that it works as well as hand weighing. Read it here.
You Ask, We Answer - In Two New Whitepapers  
The answer questions frequently asked by our customers in our two new whitepapers: "Comparison of Fusion with VITRIOX® GAS und VITRIOX® ELECTRIC" and "Saving Costs by Using FLUXANA Calibration Sets." 
Read our new Whitepapers here.

 Visit us on facebook
Tel 49(0)2821 997320/Fax 49(0)2821 9973229, e-mail: 
info@fluxana.de
, internet: 
www.fluxana.com
, 
FLUXANA ® GmbH & Co.KG, Borschelstr.3, 47551 Bedburg-Hau Germany, GM Dr. R. Schramm, reg. in Kleve HRA 2935, personal liability FLUXANA Verwaltungs-GmbH Sitz Bedburg-Hau, reg. in Kleve HRB 8211, FLUXANA ® registered trademark
---
If you don`t want to get our newsletter please send an E-Mail to unsubscribe@fluxana.de. We will then delete your mailing address from the distribution list. Find our privacy policy here.
More Articles...